You will need
Fire lighter (for example, matches or ferro rod)
Firewood
Cooking utensils
Kindling (for example, small sticks)
Tinder (for example, cotton balls and petroleum jelly)
Fire buckets
First aid kits
Chosen ingredients
Join the practical skills alliance
Bushscout are a national community of Scout Leaders who have a passion for teaching traditional and practical Scouting skills to other Scout Leaders. S
ubjects covered on training days include:
k

nife, axe and saw safety and skills

backwoods cooking

tarpology and tents

fire

kelly kettles and water purification

pioneering

crafts

game preparation
Learn more about Bushscout
Safety checklist
Use the Safety checklist to help you plan and risk assess your activity.  Additional coronavirus-related controls to think about may include: 
Carry out the activity outside if possible – perhaps use a dining shelter or large tarpaulin if needed.
Make sure appropriate social distancing is maintained between individuals throughout the activity.
Ensure hands are cleaned before using any equipment and again straight afterward
Clean equipment between different users where possible.
Set up a hand cleaning station that you can use throughout the session.
Consider how you manage activities requiring close supervision – e.g. increased instruction, face coverings and extra cleaning?
Build an altar fire
The person leading the activity should explain that altar fires are especially useful when the ground's wet, when there's peat that could catch fire, or when there's snow.
Everyone split into groups of 3-4 people and find a spot to make their fire. They should choose somewhere away from anything that could catch fire, the ground should be flat and clear, and there shouldn't be any overhanging branches or structures.
Lay a row of large green logs on the floor to make the bottom layer of their altar fire.
Lay another row of large green logs on top of the existing layer. The second layer should run the other way – so the logs are at right angles with the first layer.
Everyone should keep laying logs on top of the base (changing the direction they face with each layer) until they have a stable base about 60 - 70 cm tall.
Now create a platform on the base using green, evenly-sized logs.
Finally cover the platform with a layer of mud. The mud layer should be at least five centimetres thick.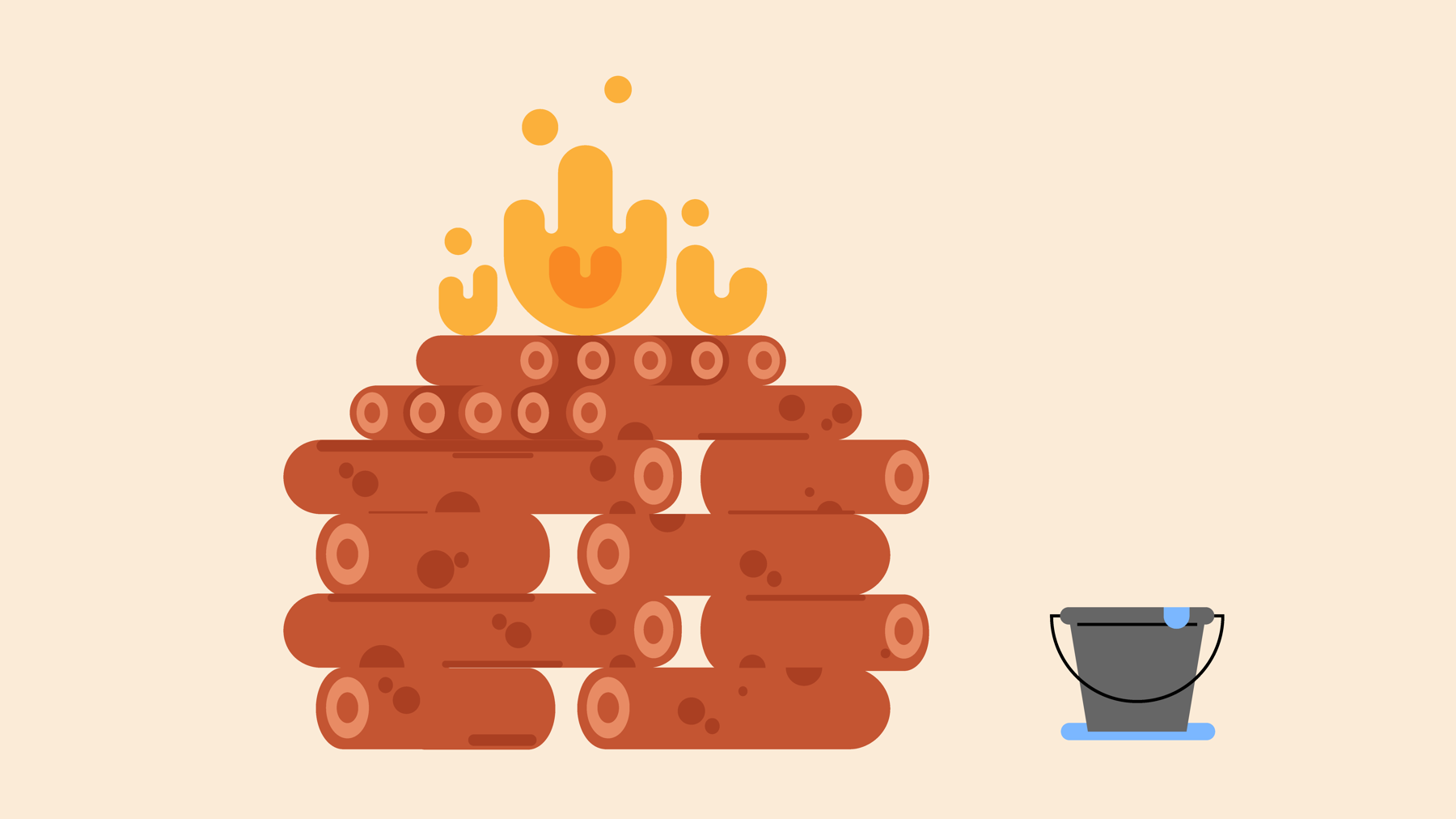 Build and light the fire
Everyone should collect wood for their fire – they'll need a mixture of small pieces of kindling and bigger pieces of wood to keep the fire going. At the same time, they should collect tinder to help them start their fire from a spark (for example, dry grass and straw).
Put a layer of dry wood on top of the mud on their platform, to create a base for their kindling.
Groups should sort the rest of their wood into piles by size – this will make it easier to grab the sticks as they need them.
Now lay the fire. A

 

star fire's a great place to start.
Create a small bundle of their tinder and surround it with kindling.
Everyone should light their starting material. A ferro rod and striker is great for tricky weather conditions, but people could also use lighters or waterproof matches.
Get cooking
Everyone should prepare their favourite campfire recipe. There are plenty of options, depending on what they want to make, people could try:
Reflection
This activity was all about persevering. Lighting fires is one of the most useful survival skills to learn – but it isn't always easy. Even when people do everything right, sometimes the conditions (or just pure chance) aren't in their favour and things don't work. Did anyone have to try, try again as they built their fire? How did it feel when things didn't go to plan? Learning to get back up and keep going is a useful skill. When else might people need to be able to push through when things get tough?
Safety
All activities must be safely managed. Use the safety checklist to help you plan and risk assess your activity. Do a risk assessment and take appropriate steps to reduce risk. Always get approval for the activity and have suitable supervision and an InTouch process.
Outdoor activities

You must have permission to use the location. Always check the weather forecast and inform parents and carers of any change in venue.

Heavy and awkward objects

Don't lift or move heavy or awkward items without help. Break them down into smaller parts if possible.

Fires and stoves

Make sure anyone using fires and stoves is doing so safely. Check that the equipment and area are suitable and have plenty of ventilation. Follow the gas safety guidance. Have a safe way to extinguish the fire in an emergency.

Cooking

Teach young people how to use cooking equipment safely. Supervise them appropriately throughout. Make sure it's safe to use and follow manufacturers' guidelines for use.