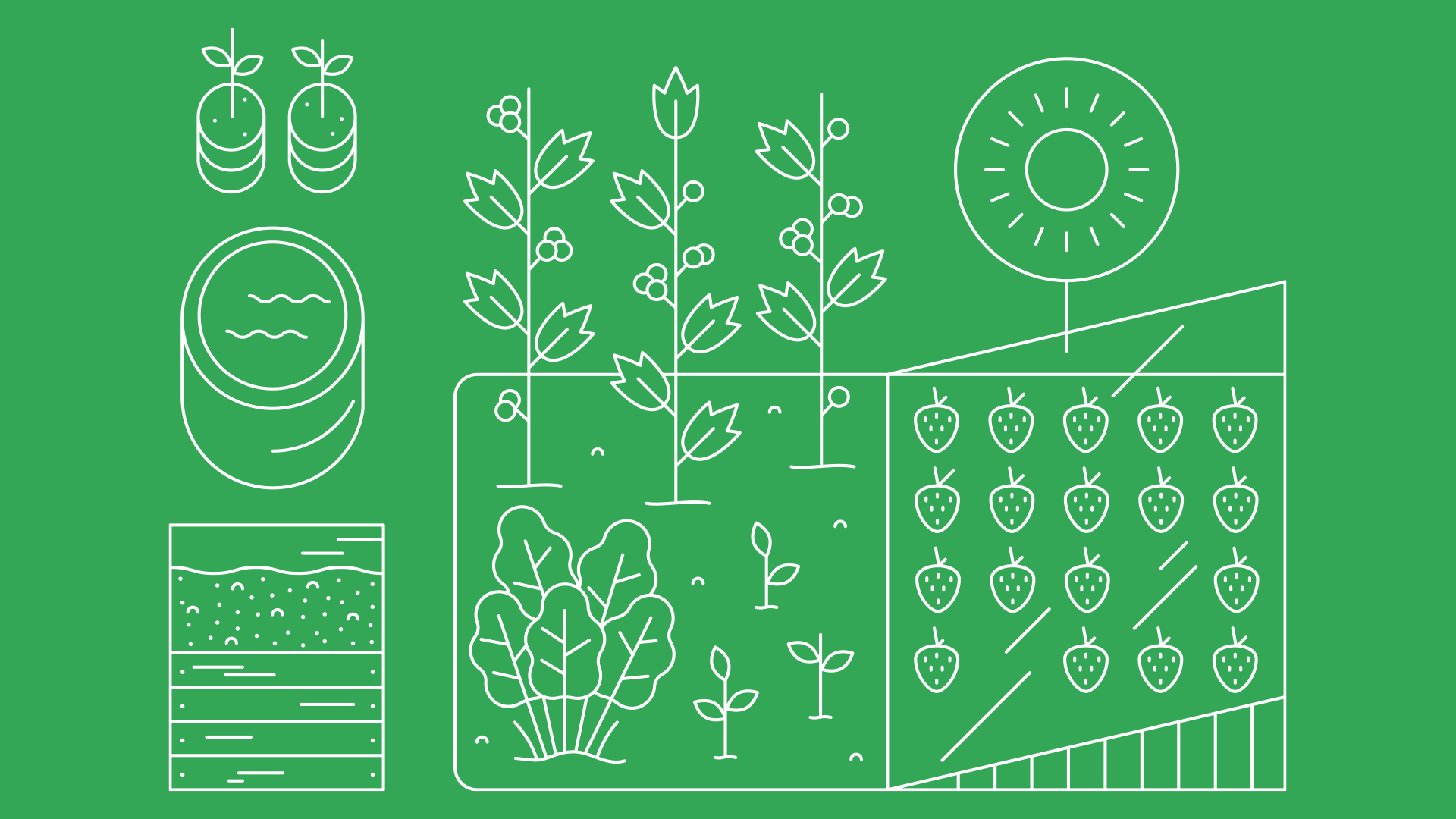 Allotment to love
Find an allotment patch and use the VegPlotter tool to make planting patterns that are works of art from the heart.
Plan a session with this activity
You will need
Pens or pencils
A4 paper
Gardening gloves
Gardening tools
Device with internet access, one per group
Non-personal email accounts, one per group
Plants, as desired
Before you begin
Make sure you've risk assessed your meeting, and also have a COVID-19 safe risk assessment

 

that's been agreed by your line manager.

 

You can check out more detailed guidance here. 
Don't worry if you don't have access to an allotment – you could research community garden spaces, or ask trustees and landowners for permission to set up a growing space at your meeting place. You could even explore the possibility of using someone's garden. 
This activity is best split across multiple sessions. The first sessions should feature an introduction to allotments, and time here should be spent researching local allotment or community garden spaces that could be used by your group. Everyone should also get some time in the first session to think about what they'll plant and how they'll set out their plants. Finally, everyone involved in the project should make a commitment to continue to care for and maintain the allotment patch, which will involve making multiple visits.
Leaders and helpers will need to make themselves familiar with the requirements of maintaining an allotment, and how to use Veg Plotter.

Alternatively, the plant and vegetable research could be undertaken using books, or perhaps a session visit from a knowledgeable parent or a local expert.
The plot planning could be done using paper designs. Create a ground template with cut-out shapes of the plantings and features of the land to then stick on.

This activity requires each small group to register on Veg Plotter using an email address. Avoid using personal email addresses by creating an email address for each group ahead of the activity session.
Let parents and carers know that you're planning on carrying out a series of visits to manage an allotment. They might like to get involved and could know others who can help.
Safety checklist
Use the Safety checklist to help you plan and risk assess your activity.  Additional coronavirus-related controls to think about may include: 
Make sure that everyone knows the plan for dropping young people off (and picking them up again).
Set up a hand washing station that you can use throughout the session. Everyone should wash their hands before and after they use equipment.
Remind people to stay distanced when sharing ideas – could you use hoops or markings on the floor to make it easier for people to see where to sit or stand? 
Make sure everyone has their own pen or pencil so they don't have to share. Think about how you'll hand out paper too – you could put it down and then move away so people can go and collect it. 
Run the activity
Everyone should chat about allotments. Talk about what an allotment is, why someone might have one and the benefits of maintaining an allotment.
Split into small groups of three or four. Each group will need writing materials, paper and a device with internet access. Instruct everyone to research local allotments, community gardens or viable alternatives (think about places with lots of land, such as farms). They should make a note of potential locations that the group can access, as well as any contact details they can find.
When everyone's completed their research in their groups, gather together again at a safe distance to share thoughts and ideas. The person leading the activity should gather up all of the written notes and contact details that the group have collected and make arrangements with the relevant parties.
Back in their groups, give each some fresh paper and a device with internet access. People could use their own devices, if they're suitable and if this is appropriate in your meetings. Give each group the details of one of the email addresses prepared earlier, and have them go to Veg Plotter. They should use the email address to register on the site.
Everyone should go to the Grow Guides page on the Veg Plotter site. Each group should research and write down three kinds of vegetable that could be planted in an allotment at the current time of year.
Now, they should research online three kinds of hardy annual flower that could be planted in the allotment at the current time of year. Then, two kinds of bulb, herbaceous plant, flowering shrub or rose. Write all of these down.
When this research is complete, gather at a safe distance again to share ideas. Using everyone's research and considering all ideas, choose three vegetables, three hardy annual flowers, two bulbs, two herbaceous plants and two flowering shrubs that everyone can grow together. Agree on a specific length of time the group will be responsible for looking after the patch for, and how often you'll need to visit.
Everyone should get back into their groups and log back into Veg Plotter. They'll probably need some fresh paper. Explain to the groups the size, shape and layout of the allotment, and remind everyone what plants they'll be growing. Using the 'MyPlots' feature on Veg Plotter, each group should create a plan of the allotment land. Making sure to include fixtures like sheds, compost bins, water containers and most importantly, the planting bed where things will grow.
When everyone's finished planning their allotment, gather together again and share ideas. Taking everyone's suggestions into account, decide together how the allotment will be set out and agree a final plot plan. A leader should note down what was decided and collect the notes that the groups have made.
Now everyone should think about how they'll record their progress on the allotment project. They should decide whether to keep a personal record or for groups to keep a joint record, which could be added to whenever any members of the group visit the plot. Encourage everyone to be creative and use a new method to record and display the data, like a social media group, blog, photo or video presentation or a traditional written log. This method needs to be agreed upon with the person leading the activity before getting started.
It's time to get started. Use the information below to help guide you through what needs to be done on visits to the plot.
Reflection
Growing plants of any variety is a nurturing experience that requires perseverance and commitment. It's likely that most of the group will be pretty proud of their little plants once they've grown up a bit! How does everyone feel now that they've completed the time agreed? Is anyone surprised with the amount of time it took to care for the plants? What was the most challenging part of caring for the allotment? Has it changed how people think about plants?
Growing and cultivating has its ups and downs. Sometimes plants don't grow the way people expect them too. This could be due to lack of water, overwatering, lack of sun, or wild animals eating them. Did anyone experience this? What happened and how did it make people feel? Hopefully the rewarding feeling when the plants were growing made all the hard work worthwhile. Can anyone share any particular highlights from this allotment experience?
Safety
Outdoor activities

You must have permission to use the location. Always check the weather forecast and inform parents and carers of any change in venue.

Animals and insects

Be aware of the risks before interacting with animals. Be aware of anyone with allergies, and make alternative arrangements for them.

Poles and long objects

Be careful when moving poles or long items. Take care if the ends are sharp. Have appropriate supervision for this activity.

Gardening and nature

Everyone must wash their hands after the activity has finished. Wear gloves if needed. Explain how to safely use equipment and set clear boundaries so everyone knows what's allowed.

Sharp objects

Teach young people how to use sharp objects safely. Supervise them appropriately throughout. Store all sharp objects securely, out of the reach of young people.

Rubbish and recycling

All items should be clean and suitable for this activity.

Food

Check for allergies before you begin. Make sure you have suitable areas for storing and preparing food and avoid cross contamination of different foods.

Online safety

Supervise young people when they're online and give them advice about staying safe.

For more support around online safety or bullying, check out the NSPCC website. If you want to know more about specific social networks and games, Childnet has information and safety tips for apps. You can also report anything that's worried you online to the Child Exploitation and Online Protection command.

As always, if you've got concerns about a young person's welfare (including their online experiences), follow the Yellow Card reporting processes.

Near water

Manage groups carefully when near water. The guidance on activities near water will help you to keep your group safe.
All activities must be safely managed. Do a risk assessment and take appropriate steps to reduce risk. Always get approval for the activity and have suitable supervision and an InTouch process.