If Scouting is about fulfilling your potential then Robert Stephenson Smyth Baden-Powell (or B-P) certainly fulfilled his. B-P, or 'Stephe' as he was known as a child, was born in Paddington, London on February 22, 1857. He was the eighth of ten children of the Reverend Baden-Powell, a professor at Oxford University.
Stephe received his first lessons from his mother before attending Rose Hill School, Tunbridge Wells, where he gained entry to Charterhouse School.
Like many brilliant people, he failed plenty of examinations. He preferred the outdoors to the classroom and spent much of his time sketching wildlife in the woods around his school. His irrepressible personality infuriated and impressed his teachers in equal measure. 
During the holidays, he and his brothers were always in search of adventure. One vacation was spent on a yachting expedition around the south coast of England, while on another they traced the Thames to its source by canoe.
After school, Baden-Powell went into the army, where he led a distinguished career through postings in countries including India, Afghanistan, Malta and various parts of Africa. The most famous point was the defence of Mafeking against the Boers In 1899, after which he became a Major-General at the age of only 43.
Baden-Powell retired from the Army in 1910 at the age of 53, on the advice of King Edward VII, who suggested B-P could do more valuable service for his country working on developing Scouting and its sister movement, Guiding.
In 1912, he married Olave Soames, by whom he had three children (Peter, Heather and Betty). At the 3rd World Scout Jamboree, The Prince of Wales announced B-P had been created a Peer. He took the title of Lord Baden-Powell of Gilwell.
Chief Scout of the World
B-P wrote no less than 32 books, the earnings from which helped to pay for his Scouting travels. As with all his successors, he received no salary as Chief Scout. He received various honorary degrees and the freedom of a number of cities, along with 28 foreign orders and decorations and 19 foreign Scout awards.
In 1938, suffering ill-health, B-P returned to Africa, to live in semi-retirement in Nyeri, Kenya, where he died on January 8, 1941, at the age of 83. He is buried in a simple grave at Nyeri within sight of Mount Kenya. On his headstone are the words, 'Robert Baden-Powell, Chief Scout of the World' alongside Scout and Guide emblems. He was later commemorated in Westminster Abbey, London.
B-P is remembered on Founder's Day – celebrated on his birthday 22 February each year. To this day Scouts continue to enjoy activities in the outdoors and live out his ideas. As the great man once said, 'life without adventure would be deadly dull.'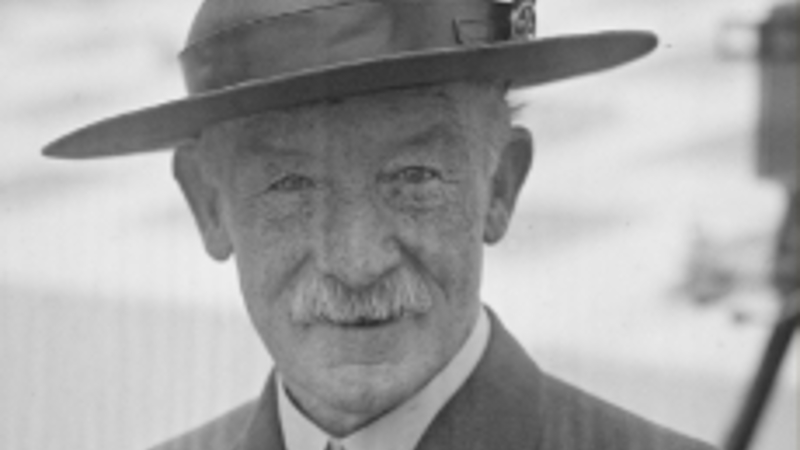 The composition of the Troop
Discover more about the first troops and the history behind the first Scout Troop in the movement
Learn more about the troop