The Transformation Team
Digital is a state of mind that changes the way we think, work and act.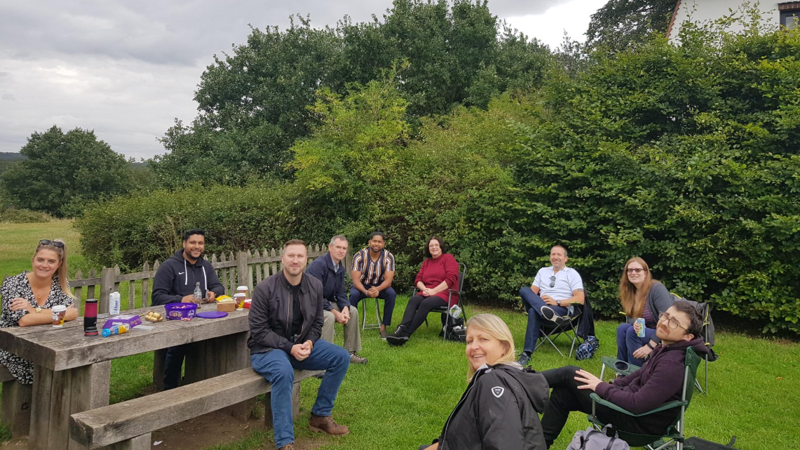 Welcome to the Transformation Team
We're the Transformation Team (not all of us are in this picture) but we thought we'd share a snap from our socially distanced meet up earlier this year. We've all been working at home since March 17th and at least 5 of us have joined since lockdown. So it was great to meet up in person just along the road from HQ in Epping Forest!
There are 19 people in our team at the moment (check out the team structure). We're headed up by our Chief Digital Officer, Lara Burns. Our team is growing and we're excited that you'd like to discover more about the team and what we do here at the Scouts. 
We have an amazing mission to transform the Scouts with digital technology and make a difference to the half a million young people we support.
Check out the job opportunities we have listed below (more coming soon). We'd love to hear from you if you think Scouts is the right fit for you.
Making Scouts digital first
Our digital strategy supports our members, grows the movement and puts our people at the heart of what do.
Our Digital Vision
We support the delivery of our 2018-2023 Skills for Life strategy by helping Scouts become a digital first organisation, embedding our digital principles and transforming the Scouts' experience with digital tools and services for our volunteers, staff and young people which are:
easy
enlightening
enjoyable
enabling
engaging and
efficient.
Our digital principles
Charlotte, Content Manager:
'I joined the team in April 2020 and I couldn't have felt more welcomed at the Scouts. The Transformation Team works at a fast pace but everyone is supportive to one another and it's a great team to be a part of.'