What is Thank You Day?
The nation's first ever national Thank You Day is happening on Sunday 4 July. It's about saying thank you to all those in our communities who've helped us through the crisis so far. Proposed by one of our Explorer Scouts, Emma, and supported by the Together coalition (made up of hundreds of organisations including Scouts, the Royal Voluntary Service, the FA and the NHS) the day is about bringing communities together and we'd love Scouts to play their part.
Meet out proposer, Emma
Find out who Explorer Scout Emma will be thanking on 4 July. 
See who wants to say Thank You
Pass this on and show your support to make Sunday 4 July the biggest Thank You Day ever.
Saying Thank You on 4 July
Hear why our Chief Scout, Bear Grylls, is supporting a national Thank You Day on 4 July.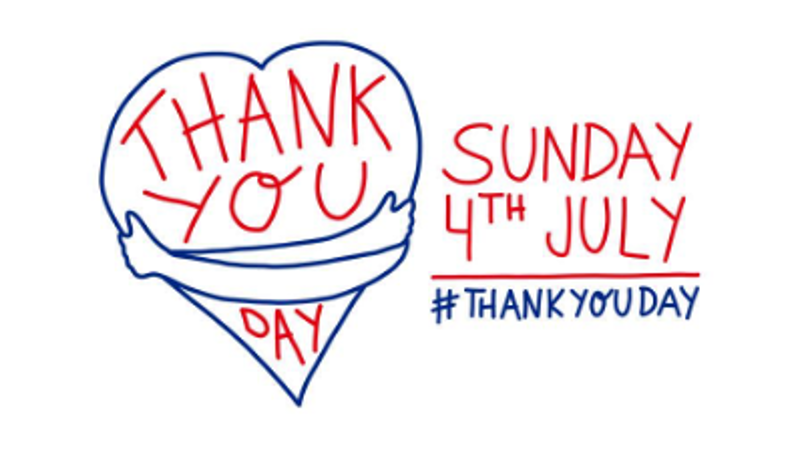 There are two big moments for Scouts to take part in:
1.  Host a BB-Thank-Q
Why not choose this moment to host a summer BBQ (at lunchtime or in the evening) to say thank you to the Young Leaders and volunteers who've kept Scouts going this year. We've got some great recipes to inspire your B-B-Thank-You, which we've developed with the great Levi Roots and our friends at NCS. Thank You Day recipe cards (wearencs.com)
At the BBQ, you might also want to say a public thank you to those volunteers who've gone above and beyond this year and hand out certificates and St. George's Day Awards. We'll all need to follow safety guidelines about gatherings and will share up to date guidance as the date gets nearer.  
2.  Say Cheers for Volunteers at 5pm
We'd like Scouts to make some noise on social media at 5pm leading to say Cheers for Volunteers. Tag one organisation or group and one person you'd like to say thank you with the hashtag #ThankYouTogether You'll also be able to download a #ThankYouTogether poster to put up in your window. We'll be sharing some thank you messages nationally too.
Remember to follow the current safety advice
We're recommending that any B-B-Thank-Qs or other thank you day events held are organised at section level (rather than group level). When organising your B-B-Thank-Q be sure to follow our rules and guidance, making sure you check what's currently allowed on the readiness level table page. If you want to thank others who support your section then this should be limited to one or two people and you'll need to brief them on what COVID-controls we have in place before they attend.
What else is happening on the day? 
Download and print these great posters to show your support for the day
A huge range of Thank you Day resources, from posters and social banners to digital medals are available on the Thank You Day website.